Description
The Ironslok-HD Bracket Kit is designed for larger irons, including the PIG Axe and the FIRE MAUL! Positive locking with high strength lock strap.
Ironslok components are molded from high quality materials
Durable and secure
Can be mounted horizontal or vertical
"The ironslok helped us solve both the problems of accessibility and safety by giving us a secure way of mounting a set of "irons" directly next to a jump seat in the cab of ladder 7…. I would recommend PAC's Ironslok mounting system to other fire companies looking for a safe, effective and secure way to mount their "irons".
Capt. Matt Hoare
Buffalo Fire Dept.
Ladder 7
Product Number
K5003-HD-B
K5003-HD-Y
K5003-HD-OR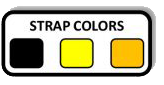 Mounting Hardware (Included)
Product Weight / Dimensions
9.6 lbs.
33.0"L x 10.0"W x 12.2"H